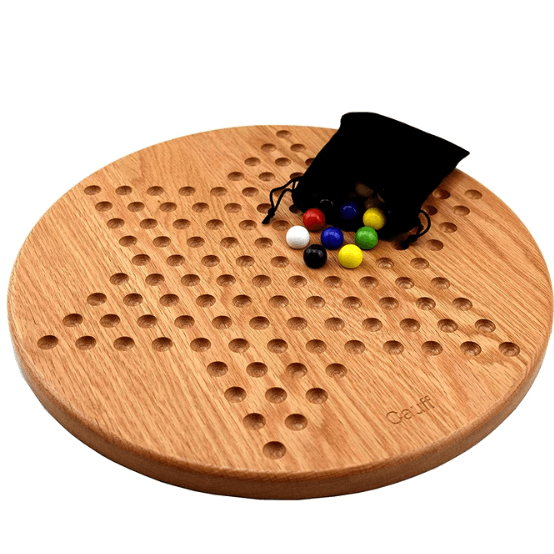 Posted on
---
Cauff Creations sells a number of responsibly sourced, handmade, solid wood board games. Among the games we sell, Chinese Checkers is a family favorite and a classic.
Wood Chinese Checkers Game
A great board game should be solidly built and come with pieces that will last as long as the board itself. 
The Solid wood Chinese Checkers game board (with included marbles) made by Cauff Creations is built with ethically sourced, real, oak hardwood right in Northeast Ohio.
Handmade Chinese Checkers Boards
The Cauff Creations Chinese Checkers board is hand sanded and hand sealed and will last a lifetime. The board also comes with a velvet bag full of 60, real, glass marbles that will last as long as the board if treated well. If you lose any pieces, you can find some replacement pieces here.
Our Chinese Checkers board can accommodate up to 6 players and comes with 6 different colors of marbles and easy to read playing instructions.
We sell one size of Chinese Checkers board. Each measures 14 inches in diameter by 0.75 inches thick.
Quick links
Contact us
8797 James Road
Wooster, OH 44691
sales@cauff.com